City of Villages
Nicknames for cities are a funny thing. Sometimes the reasons are obvious, and sometimes you have to dig into history a bit to find out why cities have claimed their nicknames. Why is New York called the Big Apple? Why is Los Angeles called the City of Angels? Why is Chicago called the Windy City? Why is Paris called the City of Light? Why is Rome the Eternal City? Why is Rio de Janeiro called the Marvelous City? And so on...

Sydney is mostly known as the Harbour City, and rightly so. It has arguably the most beautiful harbour in the world in Sydney Harbour, and another pretty one in Darling Harbour.


Sydney Harbour for NYE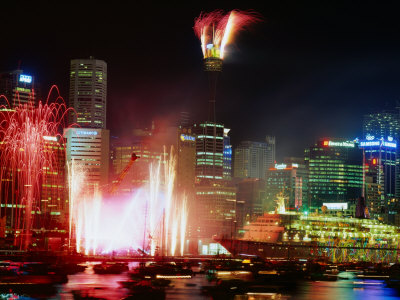 Darling Harbour
As of late, Sydney has pushed to take on another nickname as the City of Villages, and it's pretty easy to see why with large populations of Britons, Italians, Lebanese, Greek, Indian, and all sorts of Asians in their respective enclaves. According to their 2006 census, 39.4% of Australians identify as born overseas, and Asians make up 16.9% of the population. Nearly 1 in 5 people in Sydney is Asian, which is higher than LA, but not as high as SF. What does this result in? A city where you can find amazing food everywhere, and a city where there are always festivals going on celebrating each respective culture.
I currently live in the heart of the city, and will soon be moving 2 blocks away to the 39th floor of the World Tower. In this part of the city, I feel like a global citizen.
This building is awesome
On any given day I can hear numerous foreign languages being spoken by people everywhere. By spoken I mean free flowing conversations, not ordering food...which I will get to soon. This might have more to do with tourists and backpackers staying in the heart of the city, but it's cool nonetheless. The most languages I've heard in a day was 11:
English
Mandarin
Cantonese
Chinese dialect I don't recognize
Taiwanese
Korean
Indonesian
Hindi
Spanish
Russian
French
It's pretty cool, because I've never experienced anything like this in America. As an ironic side note, the Asian FOBs do irritate me sometimes, which can best be described as how some Californians feel about Mexicans: If you're going to move to an English speaking country...speak the language! As an Asian I'm kind of disappointed in myself, but as someone who speaks English fluently...come on! Don't move someplace where you don't know the language and then don't attempt to learn it! I can only imagine how some Caucasians feel...
Y U NO LEARN ENGLISH!??!
Now about ordering food. I'm really surprised I'm not 15 pounds heavier. I haven't cooked a single meal since I moved here....unless you count frying/boiling dumplings as cooking. 90% of the meals I've had here have been at restaurants. Why? BECAUSE THERE'S SO MUCH DELICIOUSNESS TO EXPERIENCE. In a 4 block radius (4 blocks in each direction) I have all these different restaurants to try out.
Chinese:
Northern style cuisine, Southern style cuisine, Yum Cha/Dim Sum, Hot Pot, Dumpling Houses
Taiwanese:
Southern cuisine & snacks,
All
Taiwanese desserts, Tons of Bubble Tea shops
Korean:
Korean BBQ, Traditional Korean
Japanese:
Traditional Japanese restaurants, Sushi Shops, Sushi Trains, Okonomiyaki shops, Yakitori shops, Katsu-don shops, Ramen shops, Udon shops, Yakiniku shops, Takoyaki shops
Indonesian
Malaysian
Vietnamese
Australian
: Meat pies, steaks, BBQ, fusion
Italian:
Traditional cuisine, Stone/Brick/Wood oven/fire pizza
shops, Gelatto shops
Indian
Spanish:
Traditional cuisine, Tapas
Mexican
Mediterranean:
Kebabs
Brazilian:
BBQ
French
American:
Fast food, bar food, burgers, steaks
Wagyu Burger...best burger I've EVER had
Tonkotsu ramen...also very good
Nando's peri-peri chicken
Braised pork belly Taiwanese style
Sashimi Salad
Mole
Wood fire pizza
Lamb ribs
Those are just the ones off the top of my head that I've had so far...it's amazing how much choice you have for food in this city in such a small area. It's sad I don't exercise to stay in shape, but I exercise so that I could eat more...=D
City of Villages indeed.